Payment Policy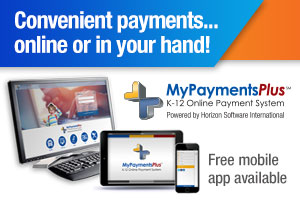 As breakfast and lunch meals district wide are now available at no charge, the policy of the Food and Nutrition Services Program is to pay for any additional items purchased, such as milk, beverages or healthy snacks with cash or deducted from your child's account. The district does not have a charge option as all meals are now free.
As cash transactions at the register can be time-consuming, sometimes overwhelming and decrease the amount of time your child has to eat, funds on account allow for a single debit purchase, enhancing and improving your child's dining experience. Your child's account can be funded utilizing cash, a personal check, money order or by using our online prepayment system, MyPaymentsPlus at www.mypaymentsplus.com.
Log-in and register at www.mypaymentsplus.com at no cost to check student's meal account balances and monitor the food items your student purchases at school. MyPaymentsPlus can be used to apply money to your child(ren)'s account (for a processing fee of 4.75% charged by MyPaymentsPlus). You can also look up student histories (up to 30 calendar days at a time) at no charge!
Create settings at no cost to automatically receive a notification email when the balance on your student's account is low. There is no cost to create an account, set up low balance email notifications or look up purchase history and account balances!
If you are concerned about how your child is spending their monies on account, the account can be limited to ensure that no additional items are purchased. Before you formally request this limitation be placed on your child's account, please note the following:
Nothing besides a breakfast or a lunch will be able to be "purchased" (at no charge) on account if this block is placed on the account. This means your child will not be able to purchase a water, milk, juice or fruit unless they are paying in cash. It is not possible to block only some items and the district does not allow any charges.
If you would like a block put on or removed from your child(ren)'s account, please fill out the Parent Request Form and return it to our office, 22 Liberty Street Room 2D.