Advancing Equity in Meriden Public Schools
District Statement
To achieve equity and access for all, we must collectively challenge existing inequities, build meaningful relationships, and actively remove barriers to success. We value the uniqueness and varied experiences of all our students and staff and believe that regardless of racial identity, socioeconomic status, or prior learning experiences, all students must have access to equitable learning opportunities and digital resources to expand their world. The recognition of unconscious or conscious systemic and individual bias continues to guide our efforts and commitment to assure equity for all.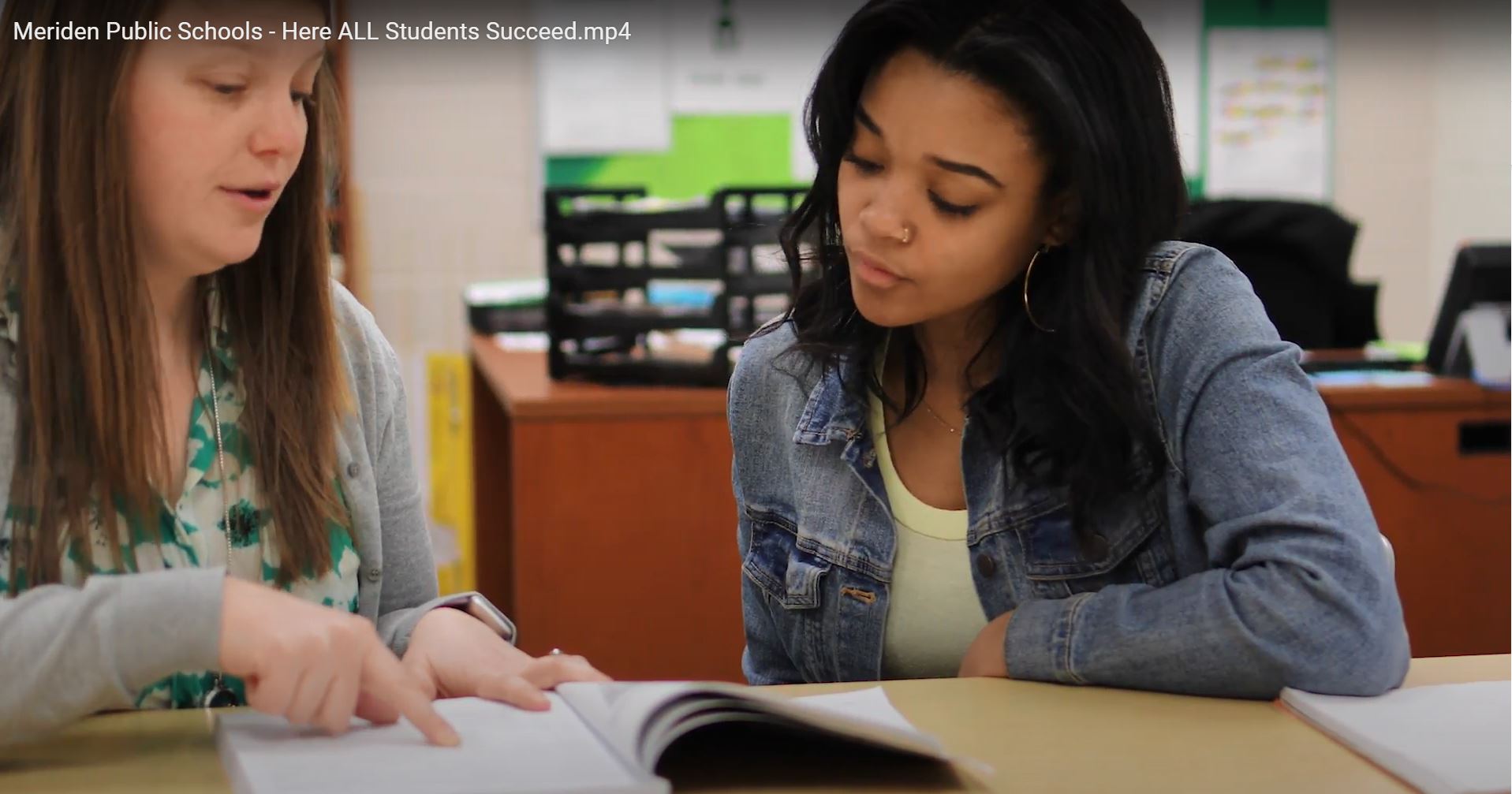 Summary of Equity Work
The Meriden Public Schools continues to be proactive in combating systemic racism in our schools. We embrace the richness of our diversity, value our tapestry of different colors and cultures, and remain committed to addressing racial discrimination and unconscious bias. Meriden applies an equity lens to all its initiatives, ensuring all students have access to quality educational experiences and graduate college, career, and life ready. Our long-standing commitment to equity is evident in initiatives implemented during the last decade. We have eliminated tracking, ensured courses were rigorous and college level, implemented a "no zero" grading practices to support students, transitioned from traditional to student-centered learning classes, opened access to all courses, including honors, Advanced Placement and Early College Experience, initiated restoratives practices and youth dialogues, developed a cadre of Equity Leaders, generated a series of Racial Equity Awareness training modules, created an Affinity Group for educators of color and other interested teachers, and reallocated resources to provide 1:1 environments with district-issued Chromebooks, mobile hotspots for families lacking internet access, and we allow students to keep their Chromebooks over the summer to access online learning. Our commitment to ensuring equity for all, combating racism, and addressing unconscious bias are continuous efforts as we advance our equity initiatives.
I really appreciate the time you spent with me providing me with great feedback and I decided that this is a opportunity for me to return the favor. I recently was interviewing with a district very similar to Meriden in terms of demographics and diversity. Once again, Meriden proved that it is ready for diversity and is moving in the right direction. Your hiring process is very welcoming and 'diversity' friendly and this is not yet true in other districts. Big Shout out to the Meriden team!

MPS Interviewee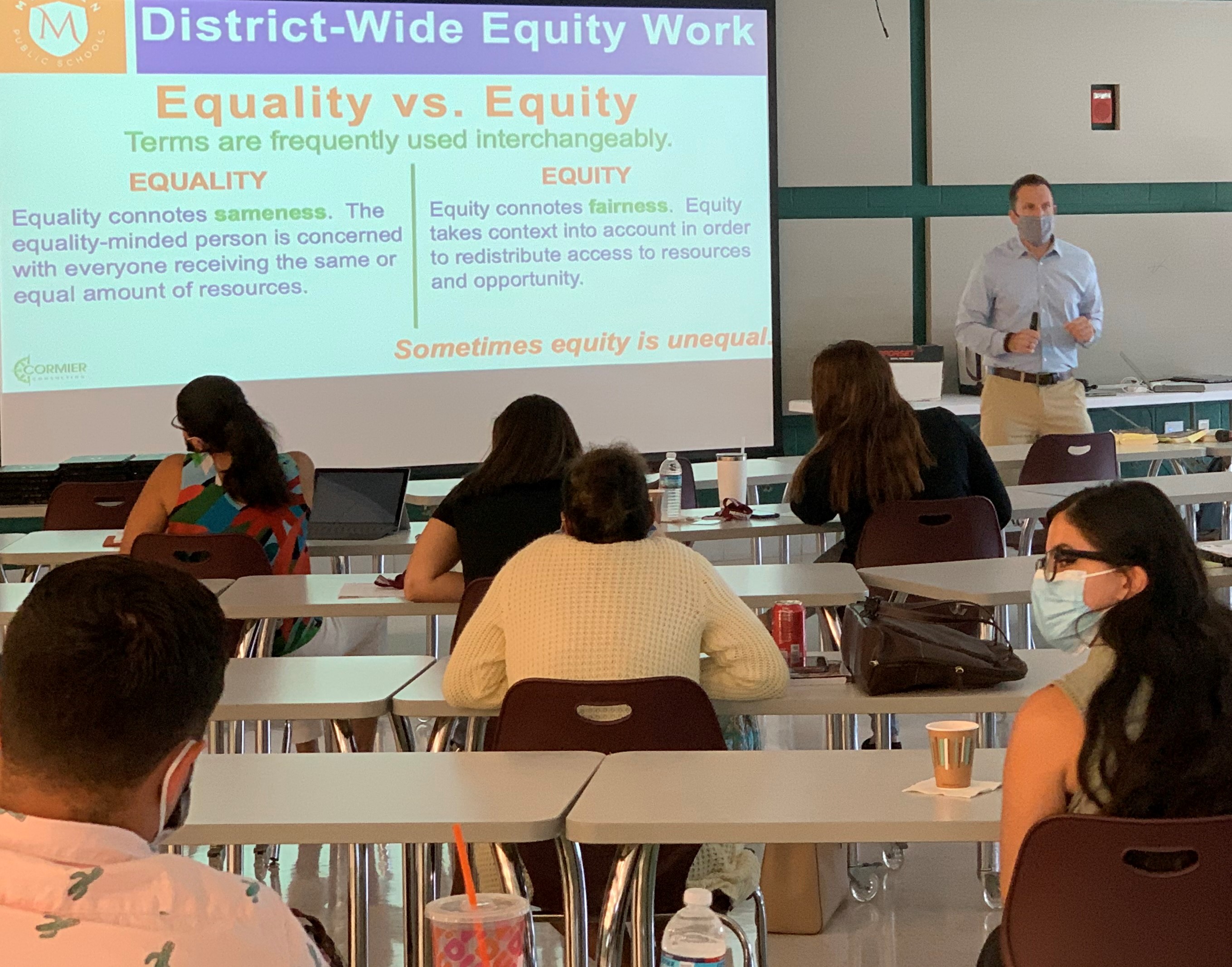 Next Steps
Our next steps include a six-pronged approach:
1. Equity Leaders will continue to roll out racial equity awareness training modules to high school teachers in small group settings to encourage discussion.
2. Equity Leaders will expand racial equity awareness training to elementary and middle teachers.
3. Equity Leaders will present components of racial equity awareness training modules at our Board of Education meetings, Administrators' Meetings, Elementary and Secondary Principals' Meetings, and Administrators' Retreat.
4. The Office of Personnel and Talent Development will continue to pursue the recruitment and hiring of teachers of color in collaboration with our Affinity Group.
5. The Office of Research and Evaluation will continue to provide the Central Office and the Board with Student Climate Survey data and trend analyses of student perceptions of racism in their school and community (newly added questions measure this important component). Also, disciplinary data will continue to be disaggregated by student subgroups.
6. A District Sub-Committee was recently established which reports directly to the Superintendent. This committee will help expand the scope of our equity work and ensure the advancement of equitable learning opportunities throughout the district.
Equity Activities
Racially Diverse Hiring
Diversity in Certified Staff Workforce
8.7% of the total teacher workforce in Connecticut

identify as racially diverse

9.4% of Meriden's certified staff identify as racially diverse
Meriden Public Schools Racially Diverse Teacher Hiring
2020-2021 - Hiring percentage 20%
2019-2020 - Hiring percentage 25%
2018-2019 - Hiring percentage 16%
Professional Learning for Staff
Elementary and Middle School Equity Series - A five-part virtual series will took place November through March
MPS Staff of Color Affinity Group has grown and continues to meet
Black Teachers Share Their Stories, Edutopia
Teaching with an Anti-Racist Lens, Symone James, presented to Roger Sherman Elementary School staff
Exploring Racial Equity, David R. Cormier, Ph.D., presented to elementary and middle school faculty
Summer Administrator Book Study, How to Be An Antiracist, Ibram X. Kendi
Leadership In Diversity (LID) Educators host a Virtual Teacher Panel: Prep for Success
MPS participated in Community Conversation Around Race and Opportunity
PDK International Educators Rising Academy for high school students
Continue Equity Leaders Program with the support of the Nellie Mae Education Foundation
Expand Racial Equity Training across the district
2020-2021
American Association of School Personnel Administrators (AASPA) Presentation April, 2021 Advancing Equity in the Meriden Public Schools
2019-2020
Participated in New York Leadership Academy - Coaching for Equity Series
Developed Affinity Group to support and help recruit diverse staff
Invited by CSDE to participate in hiring and selection to increase educator diversity consultancy
Equity Leaders Program

Funded by a Nellie Mae Education Foundation Grant
Presented Racial Equity Teaching Module to Maloney and Platt High School staffs

Culturally responsive pedagogy training at Maloney High School
Wesley G. Williams presented Leading for Equity in Schools at our Summer Retreat for All Administrators
District Leadership Team established Equity Subcommittee
Paraprofessionals participated in professional learning: Linking Identity and Achievement Through Cultural Competence
2018-2019
High School Leadership Academy

Funded by a Nellie Mae Education Foundation Grant

Participated in Courageous Conversations Summit
Summer Retreat of Administrators

Richard Lemons, Executive Director, Center for School Change, presented Disrupting Inequity in Meriden Public Schools
Robert Villanova,

Director at LEAD Connecticut,

presented Leading for Equity
A Public Education Leadership Project at Harvard University, "Race, Accountability, and the Achievement Gap" A Case Study of Montgomery County Public Schools
Jennifer Abrams, Consultant, presented Difficult Conversations
Recognitions/Articles
Urban Public Education: The Great Equalizer Non-Believers Need Not Apply (November/December 2020)
Champion of Equity, Hector Cardona (November/December 2020)
National School Board Association's Magna Award for Equity Programs
A Culture of Success for All at Meriden Public Schools
Equity Leader Resources
Racial Equity Teaching Modules Series (Funded by Nellie Mae Education Foundation Grant)
Modules developed by Dr. David Cormier in collaboration with Equity Leaders
Meriden Public Schools' System Level Logic Model
Meriden Public Schools' Spotlight on Equity
College Board New England Regional Forum - College for All: It Starts With You
White Fragility: Why It's So Hard for White People to Talk About Racism by Robin DiAngelo
Why Are All The Black Kids Sitting Together in the Cafeteria? by Beverly Daniel Tatum